-Diabolik Lovers --
(12/13 episodes)
Psychological, Vampires, Supernatural, Romance-ish. .
Better off as a porno/hentai...
Numerous loopholes and poor sequencing cannot give Diabolik Lovers any less value than the debatable execution of volatile, flammable personalities. It's 50 Shades of Grey for the inmates and with Yui's exteriors as naive and innocent, she is a perfect example that supports the consequences of being highly religious.
The show tries to sass the value of human life, but fails to detach these humane emotions from the vampire men.
I've played several "episodic romance" games and I'm not a fan of the sort. Creating an animation series off of an established game franchise is somewhat risky and Lovers, it seems, is not to be taken seriously. The overall nature of sadists, masochists, submissives, and technically incest, only adds to the steaminess of the show, if you're only looking for that spice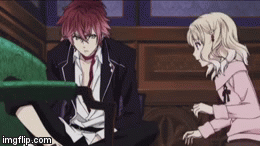 Grade:
6.6
Original Post:
a b o u t : Yui Komori was dropped off at a mansion by her father who just leaves her there. She later discovers that the mansion houses six male vampires, from three somehow-related families. One of the vampires drinks her blood, seeing her, a human, as a blood source- "the sweetest blood ever." (apparently there's a reason
why
the brothers are drawn to her... blood.) The other brothers end up wanting her blood, too, but vampire lust is not the point...
Yui finds a diary which mysteriously becomes blank after she returns to the room it was in. Slowly unraveling the past of everyone's and hers, a special visitor pays them all a visit... seen wandering around the house and disappearing at a turn of a corner. Where is Yui's father and is everyone connected by fate?
Sweet memories.
Honestly, this is a really interesting, suspenseful series, but I hate the blonde bitch after halfway!! (after halfway, guys).... And the families, wives, and family trees really confuses me~ is it like, relative incest or just two-timing your wife?! AYYYE! Oh, yeah, also, one of the vampires, Subaru, was the result of his mother, Christa, being pregnant during one raping from her lover, Karl Heinz, who has married thrice/ aka. three wives~ and... I don't want to talk anymore... *sliding away slowly
If you're interested, great! just goddamn watch, then.